Description
Want a break from large group shares? This one's perfect! Set far back on a beautifully gardened lot, this 2 bedroom/1 bath has multiple adjoining decks for sunning, dining, entertaining, and intimacy. Two comfortable bedrooms, bath, and large kitchen open to a generous living/dining area (with brick fireplace) that faces gardens, decks, paths, and even a foot bridge and gazebo. Jump on this one for yourself ... or share with a few friends. Central air and a sexy hot tub!
House Facts
Price
Call for information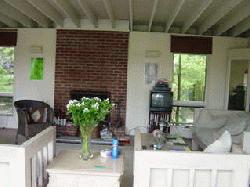 On one of the most beautiful walks in The Pines















Contact Form
If you are interested in this property, please complete the form below.